Looking for ways to get from Seattle to Victoria by ferry? We've got you covered.
Whether you're a seasoned traveller looking for a new adventure or a curious first-timer embarking on an epic journey, hopping on the Seattle to Victoria ferry route is a truly unparalleled experience for all ages.
Serving as a crucial connection between Seattle in Washington State and Victoria, BC, Canada Clipper Vacations (aka the Seattle ferry), have become an essential and beloved part of our region's character.
One I enjoy, whenever I get the chance to travel to Seattle and back.
So come, join us, as we take a deeper dive into this fascinating ferry journey. Sharing our personal tips based on our own ferry experiences here, cost & booking details, amenities, pet policies and more.
Plus a quick overview of alternatives if you want to bring a car on the MV Coho Ferry or a road trip and a BC ferry ride from Vancouver to Victoria.
Ready to grab some of our tips & inside knowledge to make your voyage easy & unforgettable?Let's go!
Disclosure: Please note that this post contains affiliate links. If you click one of the links and make a purchase, we may receive a small commission, at no extra cost to you. Thank you! See full disclosure and disclaimer policy here.
The Clipper Ferry: Seattle to Victoria
The Clipper Ferry, launched back in 1986, has been serving up quick trips from downtown Seattle to downtown Victoria for decades now. It's the only ferry that goes directly from Seattle to Victoria.
It's fast—boasting impressive speed up to 36 knots. In fact the Victoria Clipper V is the fastest ship in their fleet and is one of the fastest passenger vessels in the Western Hemisphere. Making it the quickest and best way to travel to Victoria, BC Canada,.
Operating a year-round service you can take this high-speed passenger ferry round-trip up to 2 times per day, depending on the season. Making it easy to pop by for a day trip, a long weekend Victoria vacation, or a week long trip to Victoria BC.
If you are looking for a vehicle ferry service, check out our section about the Coho Ferry & other Seattle to Victoria ferry options through Vancouver.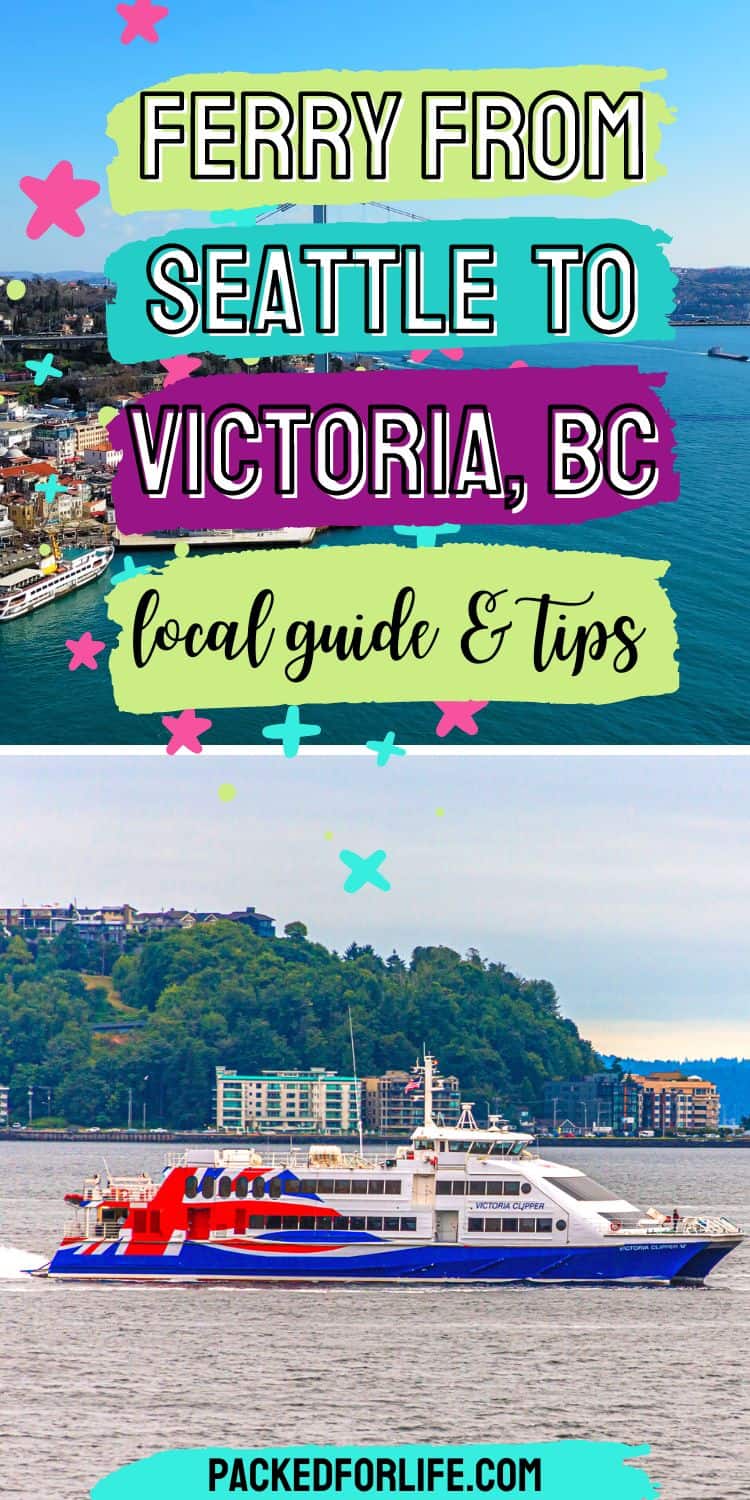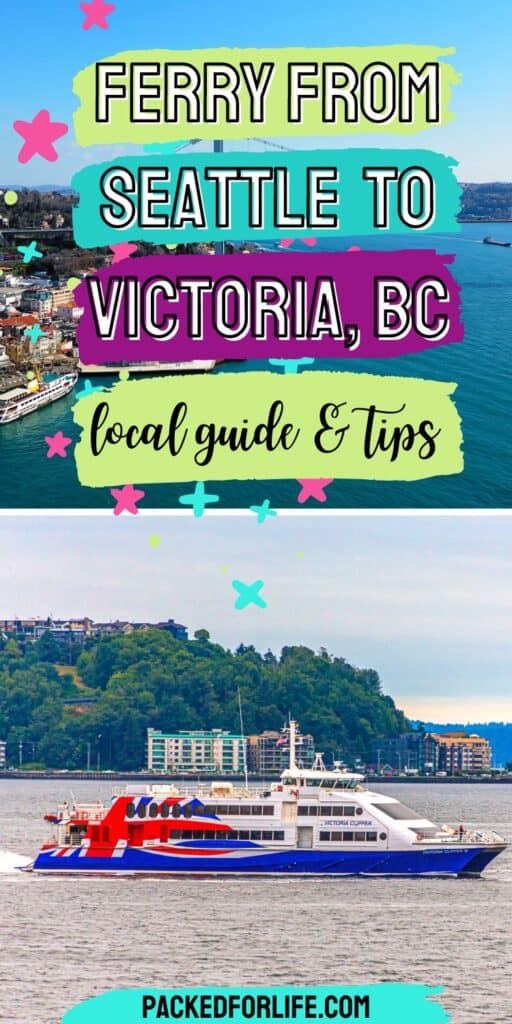 Planning Your Journey: FRS Clipper Seattle to Victoria, BC Ferry
Walk onto the sleek Victoria Clipper Passenger Ferry, from the Seattle waterfront in the United States. Then get ready for a voyage that will have you cutting through the sparkling waters of Puget Sound, and the Strait of Juan de Fuca towards Victoria's Inner Harbour.
Being treated to awe-inspiring views of the Pacific Northwest.
Overview of Basic Details
Origin and Destination: Travelling direct between Pier 69 in downtown Seattle and the Belleville Terminal in downtown Victoria, BC's Inner Harbour.
Distance Covered: 25 miles / 40 km
Duration of the Journey: Approximately 2 hours 45 minutes
# of passengers: up to 525
Cars allowed: No – Passenger only fast ferry
Sailing Frequency: Up to 2 times daily
Advanced Fare Cost (7 days): ranges from $115 USD to $160 USD roundtrip per adult
Advanced Fare Cost (2 days): ranges from $129 to $159 USD roundtrip per adult
Standard Fare Cost (less than 2 days in advance): ranges from $155 to $199 USD roundtrip per adult
How to Book Tickets
Booking your tickets for the Seattle to Victoria ferry is as easy as pie!
⛴️ You can snag ferry tickets online, but do it ahead of time to ensure you get your preferred seating and sailing schedule.
The best price is at least 7 days in advance.
You can also buy them from the Seattle Terminal the day of the sailing, if there's enough room.
Fare and Seating Options
1. Economy Fare (Main Cabin / Lower Deck)
Looking for the most budget friendly option? Then the main cabin economy fare is your best bet. As the ride is only 2 hours and 45 minutes long, the economy section won't be the end of the world.
The Economy Panoramic Class seating upgrade guarantees a window seat. Definitely choose a window seat if you can. The views are much better.
It's still comfortable, with availability to purchase local food, alcohol, and other beverages. Or try out the gift shop, for some unique west coast souvenirs.
2. Vista Class Fare (Upper Deck)
Upgrade for $15 USD per way for all the benefits of economy, plus spectacular panoramic views, leather seating with additional leg room, and table or group seating options in certain areas.
This does require walking up stairs though.
A Vista Panoramic Class premium seating upgrade guarantees a window seat.
3. Comfort Class (Upper Deck)
Comfort Class costs an extra $30 USD each way.
Giving you access to the exclusive comfort cabin on the upper deck, leather seats, epic views plus complimentary coffee, tea, soft drinks, fruit, and snacks.
The Comfort VIP premium seats upgrade gives you a window or front row seat.
As Comfort Cabins are on the upper deck, you will need to be able to walk up stairs to reach this area as well.
LOCAL TIP: Clipper Vacations

offers 20% or more off of their ticket price if you

purchase a vacation hotel package (hotel & ferry) through them directly,

at specific Victoria hotels. They also have the option to add on activities such as

Victoria whale watching

, or the

world-renowned Butchart Gardens

etc. If you are planning a short trip, this can save you some time, and hassle.
Tips about ferry fares:
Prices change seasonally. Typically less in the off season, and more expensive in the summer.
Adult fares cost $5 more on weekends: Friday & Saturday departures from Seattle, and Sunday departures from Victoria.
Children (1-11 yrs old) pay much less. Under 1 yrs are free.
Extra fees: A security fee and fuel surcharge is added to all the Seattle/Victoria fares. Tax is included in the cost.
Change Fee: Any changes to your reservation will cost a $30 USD fee.
Same day tickets: Yes they're allowed, if there is space on the boat.
Cancellation and Refund Policy
Whether you can cancel your ticket and get a refund for the FRS Clipper ferry from Seattle to Victoria depends on when and what type of ticket you purchased.
Advance Fare tickets are non-refundable.
Standard Fares are refundable up to 2 or more days (48 hours or more) prior to the departure date on your ticket. Under 48 hours they're non-refundable.
If you have questions about your reservation call from either the US or Canada: 1-800- 888-2535 between the hours of 7am – 7pm PT, Mon-Fri and 7am-12pm PT, Sat-Sun.
If you need to cancel, or change your reservation, they'd like you to do it through their contact page form here.
Sailing Schedules and Frequency
The passenger-only ferry from Seattle to Victoria runs 1 or two times a day depending on the season / month.
Victoria Clipper ferry ride:
Ferry leaves Seattle at 8 am and arrives in Victoria at 11 am if there's only one sailing.
Ferry leaves Seattle at 7:30 am or 3:15 pm and arrives in Victoria at 10:45am or 6pm if there's two sailings that day.
As times can change it's best to check out their schedule online.
Onboard the FRS Clipper Ferry
Amenities & Services Onboard
Wondering what it's like on the Clipper Ferry from Seattle to Victoria, BC? Well, it's more than just a ride—it's a mini vacation on the water! If you're lucky you may even get to do some impromptu west coast whale watching.
Once aboard, you'll find plenty of amenities to make your journey comfy and entertaining.
Peckish? They've got a snack bar serving up breakfast items, light meals and snacks.
Everything from yogurt parfaits & pastries, to sandwiches, salads and Seattle's own Chocolate Truffle Bars.
Need to stay connected? There's WiFi on board, although it might be a tad slower than your home connection. Plenty of outlets to keep your gadgets charged on the journey too.
Looking for gifts? Try their gift shop on the main deck for stuffed animals, mugs, clothing and more.
And duty-free shopping? Yep, they've got a selection of those too. US & International Travelers 19+ can purchase one litre or one bottle per person travelling into Canada.
Canadian citizens 19+ years old, can purchase one litre, or one bottle per person. If they've been out of Canada at least 48 hours or more.
So kick back, relax, and enjoy your mini cruise—Clipper Ferry's got you covered!
Bringing Pets Aboard Clipper Vacations
Yes pets can be brought aboard the Victoria Clipper vessel. They must be in a pet carrier, and accompanied by their human (no pets as cargo).
Tips for bringing your pet on the Clipper from Seattle to Victoria:
While they don't take pet reservations in advance you should let them know via their contact us form so they can note it on your reservation.
Pet fee is $30 USD each way
Small Pets: If you have a smaller pet and want to bring it onto the passenger cabin for the ferry crossing, it must fit a 20"x11"x11" enclosed carrier (duffel bag/soft crate style with handles), and be 15lbs or less.
Boarding & Luggage
The Victoria Clipper ferry allows you to check two pieces of luggage for $20.00 USD / $25.00 CAD each the day of your travels. As long as it weighs under 50lbs. Extra charges apply for more weight.
LOCAL TIP: They only allow you to pay for your luggage with a credit card, no cash, so make sure you are prepared for that.
Carry on allowance one piece of luggage ( no more than 20 lbs & 24" x 16" x 10" including wheels and frame) and one personal item.
⭐️ Also make sure you arrive at least one hour prior to departure, to leave enough time for checking in, boarding etc. The final boarding call is 20 minutes prior to departure.
Immigration Procedures
As you'll be travelling between the US and Canada you will need to bring approved ID (Passport, Passport Card, Enhanced Driver License, from certain provinces or states, Nexus Card or an Enhanced ID Card (EDL/ID).
Children aged 15 and under only need proof of their Canadian or US citizenship with an original or photocopy of a birth certificate or citizenship card.
A Visa may be required depending on your country of origin, or wherever your passport is from.
You will pass through Customs and Border Control.
Health, Security and Passport checks are done at the ticket counter for all Seattle – Victoria passengers. For more details check out all the ID & entry requirements.
Arriving in Victoria via the Clipper Ferry
The Clipper ferry from Seattle to Victoria docks right in Inner Harbour. Here you can easily walk anywhere in the downtown core. Or take a taxi or public transportation to your hotel, or sites.
There are many fun things to do in Victoria for all ages, from the Royal BC Museum, and High Tea at the Empress, to wandering Inner Harbour, taking a seaplane tour & having seafood lunch to go from Red Fish Blue Fish, and more.
🏨 Here are the top Family Hotels in Victoria Canada to stay at.
LOCAL TIP: Luggage can be stored at the Victoria side year-round (10am – 5pm) at the FRS Clipper Victoria Terminal. The cost is $15 CAD per bag (credit card only). Which is great if you want to explore the city before you can check into your hotel. Or before catching the ferry back to Seattle.
Return Journey – Victoria to Seattle
The return ferry from Victoria to Seattle leaves one to two times daily depending on the season, and more often during holiday weekends.
You can check the ferry schedule here as the times change depending on which day of the week, and month.
Catch this international ferry at the Belleville Street Terminal.
Other Ferry Options from Seattle to Victoria
Just a quick note on other ferry options from Seattle to Victoria.
Coho Ferry
If you want to take your car from Seattle to Victoria, the 90 minute MV Coho Ferry from Port Angeles, WA to downtown Victoria is one option. They also allow walk-on & bicycle passengers.
This ferry crossing is the more budget friendly option run by Black Ball Ferry Line. It will take about 2.5 hours to drive from Seattle to downtown Port Angeles.
Reservations are highly recommended. However they do put aside some space on a first come, first served basis.
Arrive at least 60 minutes prior to your sailing time.
Coho Ferry Overview
Origin and Destination: Travelling between Port Angeles, WA and the Belleville Terminal in downtown Victoria, BC's Inner Harbour.
Distance Covered: 22.59 nautical miles (42 km)
Duration of the Journey: 90 minutes
# of passengers: 1,000
Cars allowed: Yes
Bicycles allowed: Yes
Pets Allowed: Yes, either in your vehicle or the passenger deck area
Sailing Frequency: 2 to 4 times daily, season dependent
Fare Cost: $73 for vehicle & driver, $22 Adults, $11 Kids. 4 and under free. Fee for advanced vehicle reservation (non-refundable): $16 round trip online $26 by phone.
By Bus & Ferry
If you don't have a car, and have a good amount of time then you can bus from Seattle to downtown Port Angeles. I have done it before and it's a pretty fun adventure. But it does take a bit more time than driving.
Washington State Ferries: First grab the Washington State Ferry from Seattle to Bainbridge Island ($8.20 USD per person, about a 35 minute ferry ride).
Then transfer to the Clallam Transit Strait Shot Bus to Port Angeles, WA ($10 USD per person, approx. 2 hour ride).
It's only about a 2 minute walk to the Port Angeles ferry terminal from the closest bus stop in Port Angeles.
Amenities Onboard the MV Coho Ferry
While not as plush as the Victoria Clipper, the Coho Ferry has all the amenities you need:
Coffee Shop – where you can grab a snack or coffee
Duty-free Shopping
free Wi-Fi
Bicycle Racks
Pet-friendly Areas. Pets must be on a leash on the main passenger deck.They also will need to have their proper travel documents & vaccinations.
Gift Shop for souvenirs
Drive from Seattle to Vancouver, BC & Take the BC Ferry
Nothing quite compares to the journey through the Pacific Northwest's lush landscapes, complete with vibrant, sprawling cityscapes, crisp coastal air, and an abundance of marine life sightings.
My brother just did this route last month, as it was about the same time as taking the Coho Ferry route (2.5 hours driving time). He wanted to show his son some more of Canada, and said it was quick and easy.
Here's how you'll navigate your way from the Emerald City to the City of Gardens via Vancouver, BC, aboard the remarkable BC Ferries.
Embark on a Road Trip to Vancouver
Fasten your seatbelts, friends, because we're hitting the road for an adventure that's just as thrilling as the destination!
Remember, you'll be crossing the US-Canadian border, so bring proper identification (like a valid passport, passport card etc.).
US and Canadian citizens can use their NEXUS card for faster border crossing.
Here is a quick overview of Seattle to Tsawwassen Ferry terminal and the BC Ferries to Victoria.
You won't actually be driving through downtown Vancouver itself. So if you want to sightsee, plan extra time, and a little detour.
The main route is I-5 North from downtown Seattle for 115 miles (185km). Heading past Bellingham to the Peace Arch border crossing between Blaine, Washington, and Surrey, British Columbia.
Once on the Canada side stay on BC-99 N and follow signs for Delta. Once in Detta. BC you'll be taking the exit onto BC-17 for about 16 miles (26 kilometres) until you see signs for the Tsawwassen Ferry Terminal.
You'll know you're close because of the salty air. Pull into the terminal, purchase your ticket (or use your pre-booked one), and then wait for the next ferry to the Swartz Bay Ferry Terminal in Victoria.
Keep in mind, driving times can really depend on traffic and border crossing times. It's always best to give yourself lots of extra time just in case.
BC Ferries overview
Origin and Destination: Travelling between Tsawwassen and Swartz Bay
Duration of the Journey: 95 minutes
Cars allowed: Yes
Bicycles allowed: Yes. No extra cost.
Pets Allowed: Yes, in your vehicle or the designated pet areas.
Sailing Frequency: Every hour or two, season dependent
Fare Cost: Varies. Use their fare calculator to get a cost estimate.
A few Local Travel Tips for smooth sailing :
Arrive at least 60 minutes prior to your sailing time.
Make a reservation for BC Ferries during peak travel times to ensure you secure a spot. There may be multiple sailing waits during the busy times without one.
Always keep an eye on traffic and border updates. Unexpected delays can happen!
Remember that you'll be crossing an international border, so research any visa or entry requirements that may apply to you.
Travel with water and refillable bottles for you and your pets.
Check out the BC Ferries schedule and the current conditions / if there's any wait times
The weather can be unpredictable in the Pacific Northwest, so dress in layers and carry a waterproof jacket.
This Seattle to Victoria via Vancouver adventure is a journey to be savoured. From bustling city centres to tranquil coastal passages, there's a rhythm to this route that captivates. So buckle up, breathe in the salty sea air, and let the journey unfold!
Remember, as with any road trip, the journey is part of the fun. So, crank up the tunes, take in the sights if you have time, and enjoy this epic adventure from Seattle to Tsawwassen!
FAQs
Is there a ferry from Seattle to Victoria, BC?
Yes, the Victoria Clipper Ferry operates a direct passenger-only service from Seattle to Victoria, BC. This high-speed catamaran takes around 2 hours and 45 minutes, offering 2 to 3 daily sailings subject to seasonal adjustments. It's a popular, convenient, and scenic way to travel between the two cities.
What are the differences between the Clipper Ferry and the Coho Ferry?
The Clipper Ferry operates a high speed service between Seattle and Victoria, providing a direct, passenger-only service that takes 2 hours and 45 minutes. The Coho Ferry, on the other hand, is the more budget friendly option that takes longer as it operates between Port Angeles, Washington, and downtown Victoria. It accommodates both vehicles and passengers.
How far in advance should I book my Victoria Clipper ferry ticket?
t's recommended to book your Victoria Clipper ferry ticket at least 2-3 weeks in advance during peak travel seasons. However, for non-peak times, a few days in advance should be ok.. Remember, it's always better to book early to secure your preferred seat and travel times.
Is Victoria a day trip from Seattle?
Yes, Victoria can be a day trip from Seattle, especially with the Victoria Clipper Ferry's high-speed service. The journey takes under 3 hours each way, giving you a good chunk of the day to explore Victoria's highlights. However, Victoria has much to offer, so an overnight stay is recommended to fully enjoy the city.
Final Thoughts: Seattle to Victoria, BC Ferry
And there you have it – a detailed guide to travelling by ferry from the Emerald City of Seattle to the splendid gardens of Victoria, BC.
Whether you choose the direct Clipper Ferry, the Coho vehicle ferry, or the leisurely drive to Tsawwassen for the BC Ferries, this journey promises stunning sights, serene seas, and unforgettable experiences.
Don't forget to plan ahead, book your tickets in time, and prepare for border crossings.
Embark on this adventure, breathe in the salty sea air, see some marine life (hopefully do a bit of whale watching), and let the rhythm of the Pacific Northwest carry you to Victoria, Canada.
As they say, the journey is as important as the destination. Happy travels, explorers!
Related travel destinations and tips :