Who doesn't love travel and subscription boxes? Put them together and you get travel subscription boxes, the best way to get a taste of new places without having to leave your living room or kitchen. Especially if a trip isn't in the cards any time soon. Not only do they provide snacks from around the world, but many also send you destination specific goodies, tips, maps and products, so you can feel like you're actually there! We will be highlighting the 25 best travel themed subscription boxes out there.
You'll find the best travel box subscriptions for kids, adults, beach lovers as well as for travelers who just want to experience new things while staying at home!
Disclosure: Please note that this post contains affiliate links. If you click one of the links and make a purchase, we may receive a small commission, at no extra cost to you. Thank you! See full disclosure and disclaimer policy here.
BEST TRAVEL SUBSCRIPTION BOXES
Some of the best travel subscription boxes introduce you to the culture, food, and history of places around the globe. They can provide you with inspiration for your next travels, or give you a taste of what to expect on your next vacation.
They can also provide travel tips, mini language lessons all while supporting local businesses. Plus a travel themed box makes the perfect gift for those hard to buy for travelers, or as an at-home date night with your sweetie. Vacation in a box!
The majority of of these travel themed boxes can be found on Crate Joy which is one of the largest marketplaces for subscription boxes.
Once you start a travel box subscription you will get a different box each month or quarter, full of surprises. That's so fun! You never know what will show up in your monthly travel box. They also make great gift ideas.
We've listed our boxes out by category, so depending on what you are looking for, you can easily find your favourites.
Culture Subscription Boxes – Have a focus on cultural experiences including food, cooking, virtual tours, travel guides, music, and products from artisans
Vacation in a Box – For when you need a holiday at home.
Outdoor & Camping Subscription Boxes – Gear to help you glamp, camp and live your best wild life outdoors
Beach Subscription Boxes – celebrate all things that make the beach and beach lifestyle great
Lifestyle Subscription Boxes for Travelers – shower yourself and loved ones with books, apparel, jewelry, and beauty products
Subscription Boxes for Travel – Destination specific specific boxes for Hawaii, Mexico, USA
World Food & Snack Subscription Boxes – Tantalize your taste buds with sweet and savory snacks, spices and recipes.
Kids Subscription Boxes – help your kids explore the world through geography, STEAM activities, cooking and more.
---
---
CULTURAL SUBSCRIPTION BOXES
These subscription boxes have a focus on cultural experiences including food, cooking, virtual tours, travel guides, music, and gorgeous products from artisans around the globe. Enjoy the best subscription boxes for travel.
Wanderkama is the ultimate in a wanderlust subscription box. Gorgeous items each month include jewelry, handbags, home decor and more from a specific country. Plus it includes a travel guide to inspire your wanderlust.
3-5 fair trade artisanal and hand made products per month
Travel guide included
Ships worldwide from United States
Safiya's World Music Playlist – Music Subscription Box
Safiya's World Music Playlist is a music subscription box that offers a VIP world music experience straight to your front door. Discover a new destination and musical experience each month. Partnering with independent artists, Safiya's gives a portion of the proceeds back to the featured artist and supports small businesses and artisans.
Portion of proceeds go to artist
Offers three levels of boxes Suitcase, Bookbag, and General Admission
Monthly box, or 3 and 6 month options
Playlists, travel guide, links to virtual tours, live Zoom performances, and more
Ships worldwide from the United States.
GlobeIn
GlobeIn is best described as a curated box of products from artisans around the world. By buying one product, you are helping to create sustainable jobs in more than 30 artisan communities worldwide! You can subscribe for yourself or make it a gift with options like monthly, quarterly and annual subscriptions available.
Plus GlobeIn offers gorgeous artisinal products in their Artisan Shop, which you don't need a sunscription to buy from.
4-5 curated items
supports artisans in remote communities around the world
Purchase single boxes and unique items in their Artisan Shop
Boxes ship to Canada & USA. Artisan Shop ships worldwide
Driftaway Coffee Subscription
Driftaway offers sustainable coffees from around the world. Catering to your tastes, they help connect you with the farmers and producers completing the cycle.
Perfect for the coffee lovers in your life. The first box is a multi-pack sampler the recipient can rate, so Driftaway can adapt to their (or your) preferences.
Five sustainable coffees from around the world
Weekly virtual Zoom tastings online
At home guide to do your own tastings (invite a friend!)
100% compostable packaging
Tasting notes & origin hidden so you can enjoy the mystery before finding out more.
VACATION IN A BOX
For when you want a mini staycation a Vacation in a Box can help you or your loved one's feel pampered or feel as though you are transported somewhere else. I love that you can take some time for yourself, and explore the world from the comfort of your own home.
Holiday in A box – Vacation Subscription Box
Pining for a vacation? Why not grab a gorgeous vacation in a box.
Holiday in A Box is a travel box that allows you to experience a mini virtual vacation. Whether you or your loved ones can't escape the city, or works got you down, pick up the Holiday in a Box.
Inside you will find a curated guide to the best activities and historical highlights in your chosen city, an online tour, plus holiday "souvenirs", gourmet recipes and travel themed goodies.
The best travel subscription boxes are definitely ones that inspire people to learn about another place and immerse themselves.
This sweet vacation in a box gift idea features include:
Perfect for travelers who've had to cancel trips as of late
Every adventure comes with an exclusive virtual tour, showcasing travel tips, and fun cultural facts.
Choose 1, 3, or 6 months
Ships around the world from the UK
Travelista – Vacation in a box!
Looking for an escape at home. Grab a themed seasonal Travel Subscription box by Travelista
The Travelista Travel Boxes offer lifestyle travel-themed items that you can wear, smell, taste, read, write & learn.
6-8 fun items suitable for travel lovers
Lifestyle items include home decor, stationery/books, Jewelry, Clothing/accessories, drinks
Quarterly Subscription to bring out the traveler in you!
Ships to Canada & United States
OUTDOOR & CAMPING SUBSCRIPTION BOXES
Whether your a glamper, camper, or just an outdoor enthusiast wanting to share the love, these outdoor and camping subscription boxes will let your wild child out.
Grab a Camping monthly box for your favorite camper.
Happy Glamper – Camping subscription Box
Elevate your camping game with the Happy Glamper Box. Touted as a subscription box for the Outdoor Diva, that says it all! Reading their descriptions make me deliriously happy.
The Happy Glamper Box is best for those who love camping in style, and to be honest it looks like a lot of fun.
Themed around a US region each travel box contains products from local artisans as well as the perfect glamping gadgets and luxury travel accessories. Or my favourite "Jewelry, Home Decor + Accessories that's better than the avocado toast you paid $12.99 for at breakfast." LOL!
Glampfire Crate
Keeping with the camping theme our next favourite on the list is the Glampfire Crate. Unbox products, food, gear for your next outdoor adventure. Each box is curated around a chosen theme by RVers for RVers:
Unique gift idea for campers, glampers, RVers or the van life adventurer in your life!
Includes 5-7 items (supplies, decor, food, and gear)
Camping monthly box
Seasonal themes, with quarterly boxes
Some essentials, some luxuries for your ultimate camp life
Ships worldwide from the United States
Wild Woman Box – Travel Boxes for Outdoor Lovers
Let your Wild Woman out with the Wild Woman Box!
With a mission to make adventure and outdoors inclusive and accessible for ALL women, the Wild Woman Box is a gem amongst subscription boxes. This monthly subscription is curated with outdoor gear, inspiration, snacks and body products to support your busy and active lifestyle.
4-7 products to help you live in your wild side!
Perfect for the casual wanderer, weekend backpacker, and everyone.
Choose 1, 3, or 6 months
Ships worldwide from United States
BEACH BOX: BEACHY SUBSCRIPTION BOXES
Subscription boxes for travelers can even focus on a specific place, activity or in this case the beach.
Calling all beach and ocean lovers. Celebrate all that makes the beach amazing with your favorite beach goer, surfer, or those who want to be. Here a couple of the best beach subscription boxes.
Feel the salty wind in your hair, and sand between your toes.
Life's a Wave Beach Box – best beach subscription box
Bring the beach to you! Life's a Wave Beach Box will have you feeling beachy in no time, with their hand picked beach inspired items, and monthly subscription boxes. Beach themed subscription box offers candles, soap and self-care items , to self decor and more.
perfect for ocean lovers and mermaids
5-8 beach themed items
month to month subscription
Supports ocean minded non-profits
Ships worldwide from United States
Ohana Jewelry Club – Beach Subscription Box
Feel the ocean breeze against your skin, and taste the salty air right from your home.
The Ohana Jewelry Club is a monthly subscription box for beach lovers and ocean lovers with beach themed items. Includes 2 jewelry items, along with sweet beach, ocean, & coastal themed home decor, accessories, bath & body, and more.
Perfect Gift for Beach & Jewelry Lovers
3-4 fun beachy items & 2 jewelry items per box
Monthly ocean subscription box with themes like mermaid, Hawaiian Aloha, & Beach combing
Ships worldwide from United States
LIFESTYLE SUBSCRIPTION BOXES FOR TRAVELERS
Beachly – Surf Subscription Box for Beach Lovers
Best of the beach life delivered, for when the ocean seems far away!
Beachly is sunshine in a box, and makes every day a beach day. This Beach themed box includes apparel & accessories, jewelry, beach essentials, cruelty free skin and hair products.
While this could fit under Beach Boxes, it definitely has a lifestyle subscription vibe as well. You can also choose whether you want a women's, men's or straight up beauty box.
Seasonal travel themed subscription box, delivered 4x a year
Choose from women's, men's or beauty boxes
6-8 premium pieces
Portion of proceeds help restore coastal ecosystems through SeaTrees
Mens beach box ships to US only
Women's box ships within the US, Canada, Australia & New Zealand
Wordy Traveler – Book Subscription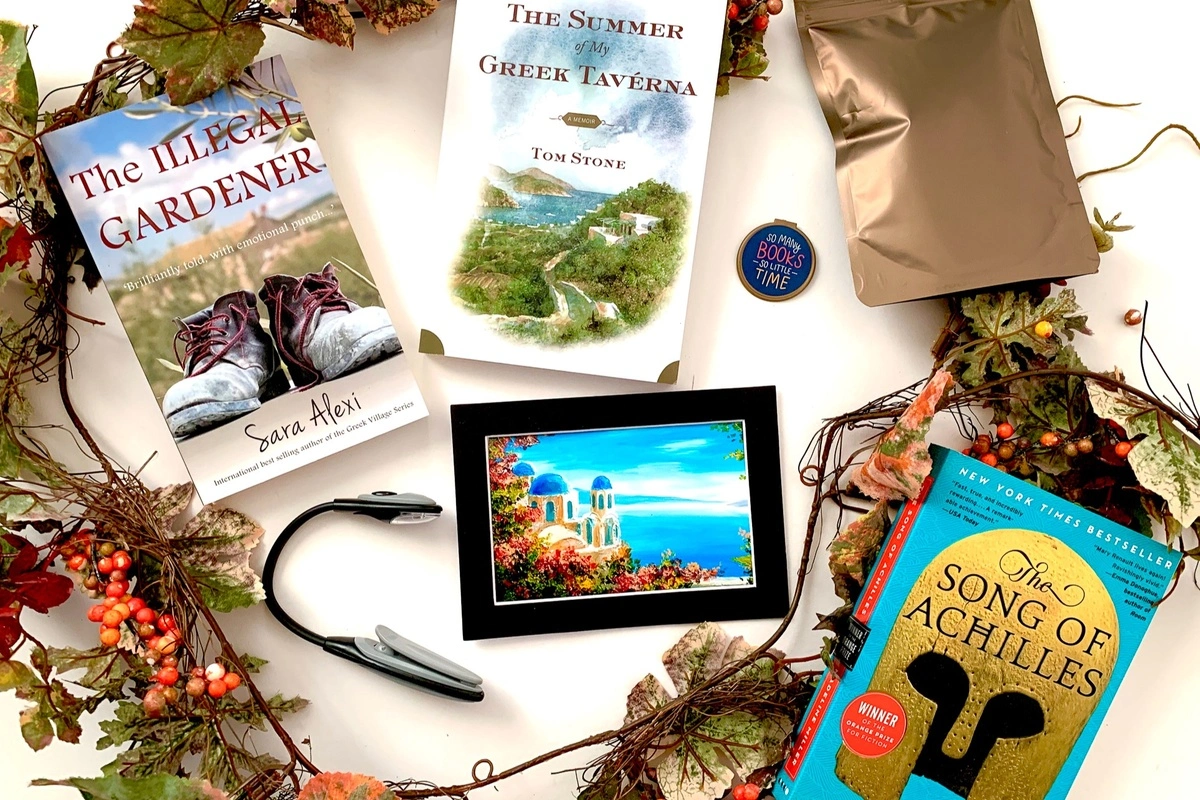 If you are more an armchair traveler, or looking for some inspiration for your next destination, then the Wordy Traveler is the literary adventure for you.
This quarterly travel subscription box, features a new destination with hand-picked books, ethically sourced tea, a limited edition art print (travel themed), as well as artesinal souvenirs and more.
They have different subscription types, depending on your style and how many books you want to buy seasonally.
Quarterly (Seasonal) Subscription Box
One fiction & nonfiction book, Ohio Tea Co Tea, Bookmark, Charm, Art Print, and Gifts
Or try the Full Suitcase with 3 books, and more gift items.
Portion of the proceeds goes towards helping women and children around the world
Ships worldwide from the United States
WANDERLUST COUNTRY SUBSCRIPTION BOXES
Mexican Subscription Box – A Snack Crate from MexiCrate
The MexiCrate makes the perfect gift for adventurous kids, familes, people who might love their hand selected Mexican candies & snacks. Bring Mexico to your home!
Celebrate and share Mexican culture through Mexican candy, snacks and treats.
Choose from Small, Medium or Large Boxes
1, 3, 6 month subscriptions, & Individual boxes available
Ships worldwide from the US
Explore Local Box – USA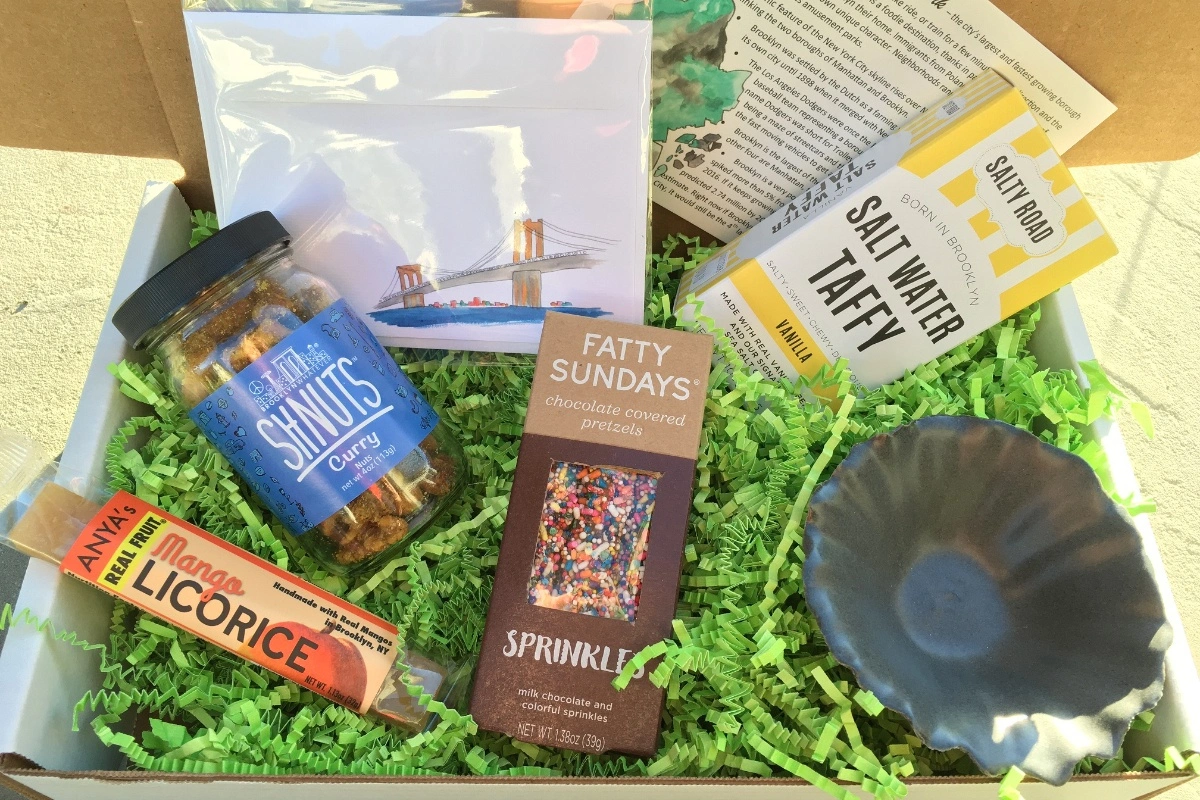 Travel across the US by exploring a new US city every month.
The Explore Local Box provides products and food items locally produced by small businesses and local artisans from each month's city. It's everything you love about visiting a city in one box; food, unique facts, history, and a city map.
Locally Made products, food, fun facts, history & map
Explore a New US City Each Month
Supports Small Businesses
Seoul Box – Korean Subscription Box
With Seoul Box, enjoy the hidden stories, treats, K-pop, and lifestyle items of Korea. They also have a snack crate if you are wanting more of a culinary adventure for the taste buds.
In Seoulbox Life, you'll receive: 8-10 hand-picked items
Korean favorite goodies, merch, beauty and lifestyle items included
Become a Seoulmate!
WORLD FOOD & SNACKS
BEST TRAVEL INSPIRED SUBSCRIPTION BOXES
An international food subscription box is a fun way to introduce you and your family members to new countries and cultures through their food. .
Bokksu Subscription Box – Japanese Candy Box
The Bokksu Box is a Japanese snack subscription box that brings a monthly selection of authentic Japanese snacks and sweets straight to your doorstep. This subscription box is best for those who want to explore Japan through their taste buds, curated based on the changing seasons and trends in Japan.
Each snack box is carefully curated around a specific region, flavor, or traditional theme. Plus, it comes with a tea pairing, which are all sourced from small businesses, making their items more unique than other Japanese snack subscription boxes.
My partner loved the tea pairings, my daughter the sweet mochi treats, and I loved being able to try new and different snacks over the 3 boxes we bought.
Perfect for snack enthusiasts, lovers of all things Japanese, travelers interested in trying snacks from smaller businesses and learning their stories
20 – 24 Japanese snacks, candies, and a tea pairing focused around a theme each month
International food subscription box
16+ Page guide that details each product's origin and flavors
Online marketplace to get more of your favourites
World Food Spice Box
This travel the world subscription box sends your taste buds dancing through freshly blended spices, and unique recipes to whip up in your kitchen. Impress your date, sweetie, or family with delicious meals made from their wide range of unusual blends and whole spices
Perfect gift for a culinary explorer, chef, food lover
International food subscription box
Comes with individually measured spice blends and free samples, recipe cards with step-by-step instructions
Send as a gift with gift message
Spice Madam
Sign up the adventurous chef in your family to Spice Madam. This travel box subscription helps you explore the world's flavors thorugh global curated spice blends & recipes from a new destination each month.
Perfect for foodies, date nights, geography & cultural lessons for kids, healthy eating with fun flavors, or as preparation for an upcoming international trip.
Full Course Meal Prep: 5-6 recipes to feed 6-8 people each
Monthly curated box of spices, recipes, fun facts, themed music from the featured country.
Vegetarian-friendly and gluten-free
Universal Yums – Snacks Around the World Box
Universal Yums is a well known and loved snack subscription box. We've tried many of these boxes and enjoyed each one. Check out our review here.
Universal Yums is one of the best subscription boxes for world snacks. Each snack box provides 5 – 20 sweet and savoury snacks depending on box size, an interactive tasting game, plus a 12+ page booklet with snack info, trivia and more. Each month focuses on a different country.
Perfect for snackers, travelers, and adventurous eaters
Three sizes of boxes: Yum Box ( 5-7 snacks), Yum Yum Box (10-12 snacks), Yum, Yum, Yum Box (18-20 snacks)
Offers gift subscriptions
KIDS SUBSCRIPTION BOXES TRAVEL
Eat 2 Explore
Eat2Explore is a monthly subscription box that introduces kids to new cultures and baking from a different country every month. Each box is created and curated by professional chefs and culinary educators to inspire families to cook, taste, and discover world cuisines and cultures.
Inside you'll find essential spice/sauce/grain mixes, & shopping lists interactive learning activities, country-inspired stickers, kitchen tools, and more.
Perfect for families looking to learn about new cultures through food
12 servings in each box (4 servings per recipe)
New country every month
Ships worldwide from United States
Atlas Crate
Kiwi Co offers some of our personal favourite subscription boxes for kids, including the Atlas Crate.
The Atlas Crate delivers hands on STEAM activities and learning aimed at 6 to 11 years centered around culture and geography. Each month focuses on a featured country to help your kids develop an appreciation of world cultures.
A travel-inspired subscription box that's fun for the whole family.
Inside you will get globally inspired activities, an instruction booklet, DIY activity cards to help kids learn more about the geography, customs, history, and foods.
Our Germany Box contained recipe for pretzels we tried, and we found the activities interesting and engaging.
Our favorite boxes were Japan and Indonesia – Making a koi kite and batiking were some unique activities and learning opportunities.
Atlas Crate Travel Subscription Box for kids features:
Perfect for 6 to 11 year olds with a curiosity of the world around them
2 STEAM activities, inspired from the country theme each month
Activity Cards & Build Your Own Adventure Book
Ships worldwide from the US
Little Passports
Get your kids to pack their suitcase and get ready to go!
Little Passports – World Edition is a travel subscription box that ignites curiosity and celebrates cultures with globally inspired experiences, hands-on art and science activities, and stories.
Your first box starts at Brazil, with activities, info booklet, map, book, coin and more.
World Edition is perfect for 6 to 10 year olds
Explore a new country each month through hands-on activities, stories, and souvenirs
Other themes and box choices for different age groups 3-5, 6 to 10 and 7 to 12
Currently ships to US, Canada, New Zealand, Australia and other US territories.
Backpack the World – Cultural Geography Subscription Box
Help your kids visit a new country every month with the Backpack the World travel subscription box. This box is jam packed full of fun and valuable resources to experience the featured country including a newsletter, recipe, craft or product, virtual tours, mini language lessons and maps and more
Political, geographic, economic, cultural information, activities, and recipes from around the world
Subscription based travel and geography kits for kids 8-14
CONCLUSION: 25 AMAZING TRAVEL SUBSCRIPTION BOXES TO INSPIRE WANDERLUST
Travel is best enjoyed with those you love, or at least those who appreciate the best of what this world has to offer. But sometimes we need a little help and inspiration to get out there and explore, even from home.
We've compiled 25 different world travel subscription boxes that will make it easier for your loved one (or yourself) to travel from home, by helping you discover new cultures through food, learn about geography in an engaging way, or simply enjoy some tasty snacks from around the world delivered right to their doorsteps.
Check out our list for curated gift ideas perfect for any traveler on your list! Or choose one for yourself, you deserve a little travel inspiration too!
If you are looking for more travel gift ideas you will love these posts!