Looking for the best places to go apple picking in Rhode Island? We've got amazing apple orchards for you to visit!
Apple picking is a super fun activity for the whole family to enjoy enjoy during the fall. Rhode Island has many orchards that offer apple picking and other fun activities families will love. There are hayrides, pumpkin patches, and corn mazes, not to mention family-friendly fall festivals.
We love apple picking and doing fall activities as a family, especially on the east coast.
Check out some of these best places to go apple picking in Rhode Island!
We'll cover where and when to go, the best apple orchards, their hours, types of apples and much more.
Ready to go apple picking in RI? Let's go!
Disclosure: Please note that this post contains affiliate links. If you click one of the links and make a purchase, we may receive a small commission, at no extra cost to you. Also as an Amazon Associate I earn from qualifying purchases. Thank you! See full disclosure and disclaimer policy here.
APPLE PICKING IN RI
The state of Rhode Island has plenty of apple orchards ripe for harvesting, so it's understandable that people flock here every year to take part in this autumn tradition.
Check out the best places and tips for apple picking in RI, to find out how you can make your experience unforgettable!
Apple-Picking Tips for Apple Orchards in Rhode Island
Apple-picking season is coming up, and this year Rhode Island has orchards growing more and more apples. Here are a few tips to get you started.
SEASON: The season is usually from late August into November. Apples are at their best from September to end of October.
COSTS: Typically vary between $10 – $20 per person. Still, it varies depending on where the orchard is located, how many trees are present, and how much fruit is available.
EASIER OPTION: Some local grocery stores & most of the farms also offer pre-picked fruit that are ready to eat on the spot. Then you can just take in the other autumn activities like hayrides, corn mazes, apple cider donuts and festival activities.
Rhode Island is home to a variety of apple orchards, farms, pick-your-own spots and farm stands. From the quaint, historic farm in Cranston to the expansive orchard in Coventry with pick-your-own apples, blueberries, peaches and more, there's an experience for everyone.
While there are so many amazing orchards to choose from we will give you a taste with the top 11 places.
BEST APPLE ORCHARDS IN RHODE ISLAND
1. Knight Farm, North Scituate, RI
Knight Farm in North Scituate is a 40-acre farm along with a restaurant, bakery (try their cider donut), and ice cream store.
It is now running for almost 200 years and is a traditional spot where you'll find pumpkins are scattered along the walkways.
In addition to picking your fruits from their orchards, you have an option to dine in their popular breakfast / lunch restaurant. I hear the Farmer's Omelette is divine.
They have plenty of varities of apples including Macoun, Delicious, Honey crisp and more.
The smell of fresh donuts lingers in the air tempting you to buy one (why resist?!?). An ideal place to spend an autumn day with the family.
HOURS: Pick-your-own hours are 9am-5pm daily during the season and the restaurant is open Wed – Sun 7am-1:30pm (year-round).
1 Snake Hill Road North Scituate, RI (401)349-4408
2. Barden Family Orchard, North Scituate, RI
In 1931 the Barden Family Orchard in North Scituate opened, and has been in the family ever since. They've expanded from their apple and peach crops to include blueberries, raspberries, sweet corn, pumpkins and more.
There grow over 20 varieties of apples, and what you can pick depends on when you visit, and their harvest times.
Some of the best picking is Golden Delicious, Red Delicious, Northern Stylish, Idaring Empire and Rome Beauty.
If you are not keen to pick, visit their farmers' market store where you can buy some of their seasonal produce. There are hay rides Sundays after Columbus Day weekend until Halloween.
HOURS: Open Weekdays 9-5 and open weekends & holidays 9-4 for u-pick.
COST: Varies by the 1/2 bushel or peck, with prices running from $7 for a kids bag, on up to $40 for a half bushel (21-25lbs).
56 Elmdale Road North Scituate, RI 02857 (401) 934-1413
3. Dame Farm & Orchards, Johnston RI
Dame Farm & Orchards has grown through seven generations of the Dame family , 3 of which serve you today. On the farm, autumn activities are available such as wagon rides and a corn maze.
Visit in July for an iconic photo in the gorgeous sunflower field.
In Fall, the farm offers pick your own apples and pumpkins, as well as freshly picked fruits and flowers for those harvesting. Plenty of free parking.
Wagon rides are available Saturdays from 9:00am to 4:30pm. They're $7 per person, and free for 3yrs old and under.
The apples are scattered around the seven acres of farm, so be sure to wear comfortable shoes. You'll find Honey Crisp, Gala, McIntosh, Empire, Ida Red and Cortland and many more.
HOURS: Mon – Fri 9-5:30 and Sat 9 – 5. Not open Sundays.
91B Brown Avenue Johnston, RI 02919 (401) 949-3657
🍁 You may also like our top picks for fall things to do with kids in Rhode Island.
4. Sweet Berry Farm – Middletown RI
Sweet Berry Farm located near Near Newport in RI, grows every kind of produce for you to choose, harvest and cut. From Christmas Trees in winter to apples, berries, peaches and pumpkins in summer and fall.
It also combines an artisan farmers market and cafe, with premium ice cream, fine food and farm products, many sourced locally. This is a stop for year round adventures.
They have a variety of u-pick apple options including Summer Golden (Pristine), Sansa, Zestar, Summer McIntosh, Gingergold, McIntosh, Gala, Golden Supreme, Honeycrisp, Macoun, Cortland, Jonagold, Empire, Golden Delicious, Fuji, and Mutsu (Crispin) and more.
HOURS: Open daily from 9 to 6pm, from May to Christmas. Apples are available late August – early October.
COST: $25 Bag, cost varies for amount picked.
915 Mitchell's Lane Middletown, RI 02842 (401) 847-3912
5. Jaswell's Farm, Smithfield, RI
Jaswell's Farm is the oldest apple orchard of Smithfield set up by Nicholas Jaswell In 1899. You are also invited to visit the farm to discover more about its history, operation and maintenance.
You can harvest a wide selection of apples or other fruit.
Pick-your-own pumpkins are happen through the end of October. The farm also presses and pasteurizes its own fresh apples into cider, on apparently the largest apple cider mill in the state.
Their farmstand and bakery offers the freshest picked seasonal fruits and vegetables as well as a delectable assortment of fresh baked goods like pies, pastries, cider donuts and more.
You can even pick up some themed goodies like Candy Apples (Hello Reese's Peanut Butter Cup Apple!) while you are at it. Order ahead if you want to make sure of availability.
Jaswell's Farm is one of the best spots for apple picking, Rhode Island and is one of the most visited apple destinations.
HOURS: Thursday & Friday 9am – 5pm; Saturday & Sunday 9am – 3pm!
COST: $28 for a peck (~ 10 lbs), $48 for a half-bushel (~20+ pounds)
50 Swan Road Smithfield, RI 02917 (401) 231-9043
🌽 Also check out the best Corn Mazes in Rhode Island.
6. Pippin Orchard, Cranston RI
Pippin Apple Orchard in Cranston has some of the best apple cider and pies around. Their orchard is over 17 acres and is known as one of the best groomed orchards in New England.
The Pippin orchard offers many different varieties of apples. They grow Macintosh, Empire, Cortland, Gala, Honeycrisp, Macoun, Jonagold, and Red Delicious.
You can also find many top farm products in their store including local milk and eggs, maple products, syrups, candy apples and cider doughnuts made fresh in their bakery.
HOURS: U-Pick Open weekends only 10:00am to 4:00pm.
COST: $25 a bag
751 Pippin Orchard Road, Cranston, RI 02921 (401) -943-7096
7. Steere Orchard, Greenville, RI
Steere Orchard has been growing apples and peaches since the 1930's, and is a fourth generation family orchard.
Pick Your Own apple varieties include Macoun, Cortland, Red and Golden Delicious, Macintosh and RI Greening.
You can also find yummy things to purchase on their farm stand like Peaches, Pumpkins, Corn, Jams and Jellies, Apple Butter, Apple Cider, and locally produced Honey.
Check to see if they are offering hay rides this year!
HOURS: Open daily 9-4.
150 Austin Ave., Greenville, RI (401)-949-1456
8. Appleland Orchard, Greenville, RI
Appleland Orchard is the place to go if you want to skip the picking, and go straight to wandering through beautiful fall themed decorations and pumpkin patches. All while grabbing some natural cider, plump cider donuts, and delicious candied apples and pie.
Apple types for sale include Paula Red, Ginger Gold, Gala, McIntosh, Cortland, Honeycrisp, Macoun, Empire, Mutsu (Crispin), Golden Delicious, Red Delicious.
135 Smith Ave, Greenville, RI 02828 (401) 949-3690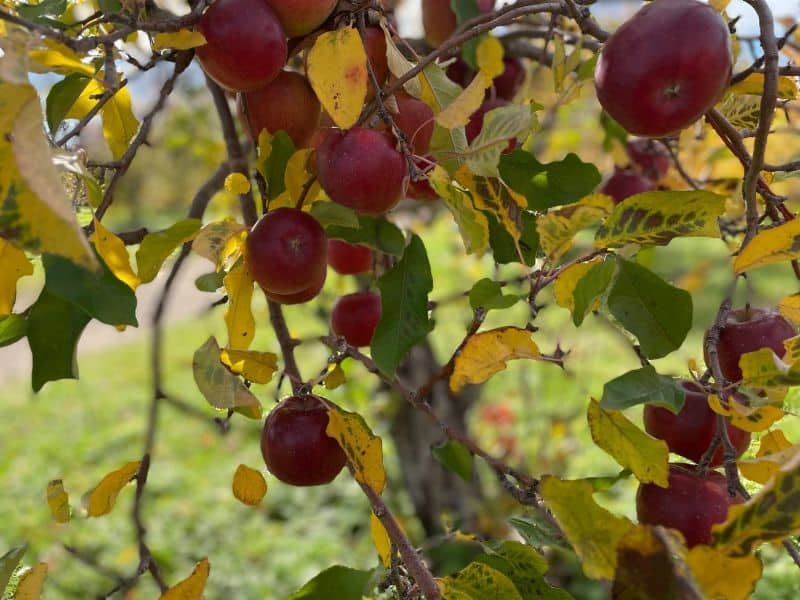 9. Sunset Orchard, North Scituate, RI
Sunset Orchard, is a lovely 18 acres, nestled on a country road.
Founded in 1910, Sunset Orchard has been continuously owned and managed by three families throughout the past hundred years, remaining a cherished family-run enterprise.
They grow 25 different varieties of apples many of which are antique varieties you can pick including Red Delicious, Gravenstein, Granny Smith and Paula Red.
More can be found in their farm store for purchase; Ginger Gold, Jonathon, Pink Lady, Northern Spy and more.
Free tractor pulled wagons run on the weekends.
Visit for the pick your own apples, cider, and a belly full of sweets, and leave with lasting memories of fun fall times together.
HOURS: Open Fri to Sat 10am – 5pm September thru October.
244 Gleaner Chapel Rd. North Scituate, RI 02857 (401) 934-1900
10. Appleland Orchards, Greenville, RI
Appleland Orchards is a fun place to visit in RI with friends and family.
Experience the nostalgic charm of a traditional farm store while enjoying high-quality products that satisfy your cravings.
Fall tasty treats range from their Farmer Joe's freshly squeezed cider to Mary Lou's classic hot apple cider donuts. Plus apple wine, fall decorations and more delights for every family member.
Hand pick your own apples, or purchase apples, peaches.
135 Smith Ave, Greenville, RI 02828 (401) 949-3690
11. Narrow Lane Orchard, North Kingstown, RI
Narrow Lane Orchard is home to more than 20 varieties of apples, peaches, nectarines, blackberries, blueberries and kiwi berries.
You-pick season depends on what you'd like to pick. For apples the season funs middle of August to the end of October, depending on the type.
They have Redfree, Honeycrisp, Gala, Mcintosh, my favourite Cortland, Liberty, Macoun and more.
After you're done picking be sure to take a spin around the mile-long nature trail and take a fun picture with their resident Sasquatch.
213 Narrow Lane, North Kingstown, RI, 02852 (401) 294-3584
COST: Varies by amount, 1 peck bag (10-12 pounds), half bushel (20-22 pounds) allows up to 4 people to pick.
4 Reasons to Visit a Rhode Island Orchard this Fall
Get yourself to an apple orchard in Rhode Island this fall!
1. You'll get a taste of some of the best apples in the country. Who doesn't want a taste of the best?
2. You can pick your own apples and bring them home with you while supporting local farmers. It's a fall tradition—choosing your own produce and then using it to make delicious foods for all your friends and family.
3. There are plenty of apple recipes to try out this fall! If you haven't already tried them, now is the perfect time to try something new for dinner tonight!
4. You'll find some great activities that you can do while visiting, like going on hayrides, taking your chances in a corn maze or pumpkin patch and hanging out at an apple or fall festival.
Rhode Island's Harvest Season (September–November)
September marks the start of the fall season in Rhode Island, also known as harvest season and it includes lots of festivals and fairs.
If you are heading out to U-Pick, you might as well take advantage of the fun festivals in the area.
The harvest festivals in Rhode Island are located all over the state. There are festivals in Warwick's Cranston and Coventry, at Roger Williams Park in Providence, or even along the coast of Newport! It is hard to pick a favourite festival when each has its own unique appeal.
There's also adventurous corn mazes.…enter if you dare, pumpkin patches, spooky pumpkin lanes, and more.
Why Rhode Island is the Best Place to Go Apple Picking?
Rhode Island is one of the best places to pick because of its bountiful orchards, beautiful scenery and fall festivals.
Sweet Berry Farm in Middleton, Jaswell's Farm in Smithfield or Knight Farm in North Scituate are just three of many places to visit.
Apple picking is a great activity to do with family or friends during autumn. You can also pick pears and other fruits if you happen to make a trip to many of these places in RI!
Rhode Island's Harvest Festivals
Rhode Island is a beautiful state with a rich history and culture. It's home to many festivals that are perfect for family gatherings or just some much-needed alone time.
There are many harvest festivals throughout the state, but they each have their own unique flavour.
Searching for a more traditional experience?
The Apple Festival that takes place every October offers just what you're looking for: vendors selling homemade baked goods, cider mill tours, live music performances and plenty of fresh apples picked right off the trees.
The dates for Harvest Festivals are as follows:
Annual Apple Festival in Johnston, RI – Usually held 2nd weekend in September in Johnston Memorial Park. Carnival & Pony Rides, Free Kids Zone, Apple pie baking contest, live entertainment.
Autumnfest in Woonsocket, RI – Columbus Day weekend.
North Smithfield Pumpkin Fest in North Smithfield, RI – September 16, 2023
Jack-o-Lantern Spectacular at Roger Williams Park Zoo, Providence, RI – September 28 – October 31, 2023
Be Creative this Fall with Your Favorite Fruit – Apples!
Fall is a time for apples, and now that you've picked some of your favourites, we will explore how you can use the apple in your day-to-day life. Stock up on soome yummy recipes for when you bring your bounty home.
Or check out this epic list of apple recipes from Providence, RI area chefs.
What is the best month to go Apple Picking, Rhode Island?
The peak apple season in Rhode Island is September 1st to end of October. This is when most varieties will be most flavourful, plus it is also when you can visit the many fun festivals that celebrate everything you love about fall.
Conclusion: The Best Rhode Island Orchards
Best Places To Go Apple Picking in Rhode Island
With the apple season almost in full swing, we've listed some of the best places to go apple picking in Rhode Island.
Apple picking is a lot of fun, and there are plenty of orchards to experience a day out with your family.
Apple season is a great time to enjoy some fresh apple pie, apple crisp or even just a big basket of apples for snacking. The best way to get your hands on these staple fall treats is to visit your favourite orchard for fun apple picking in Rhode Island!
Related New England Destinations and family travel resources: