Looking for fun eco-friendly stocking stuffer ideas? We've created the ultimate sustainable stocking fillers list for you!
It's that time of year again, and if you're scrambling to find the best eco-friendly stocking stuffers ideas for the whole family, (while watching your budget), we've got you covered.
As parents to three kids ourselves we know the struggles with finding time, money and energy to seek out holiday gifts that we feel good about for our kids and loved ones. With no junk Christmas stocking stuffers a focus.
So we've made it easier by compiling a huge list of our favourite small eco gift ideas. Guaranteed to make everybody on your Christmas list happy, whether you have toddlers, tweens, teens or picky adults.
Our ultimate gift guide list contains eco stocking fillers ideas for all ages, as well as many eco gifts under $25 and our top 10 picks. Whether you're looking for food and drink eco friendly stockings stuffers, home goods, toys or more for the eco-concious – we have something for everyone.
Disclosure: Please note that this post contains affiliate links. If you click one of the links and make a purchase, we may receive a small commission, at no extra cost to you. Also as an Amazon Associate I earn from qualifying purchases. Thank you! See full disclosure and disclaimer policy here.
ECO FRIENDLY STOCKING STUFFER IDEAS
One note. I have included some Amazon eco friendly stocking stuffer ideas in here. While ideally we would prefer to always support small local eco businesses, sometimes that's not possible. Or sometimes the higher price tag can make them out of reach for many people.
Which is why I've included a variety of businesses you can choose from, to find your perfect sustainable stocking stuffers for everyone who makes your "nice" list.
TOP 10 PICKS FOR SUSTAINABLE STOCKING STUFFERS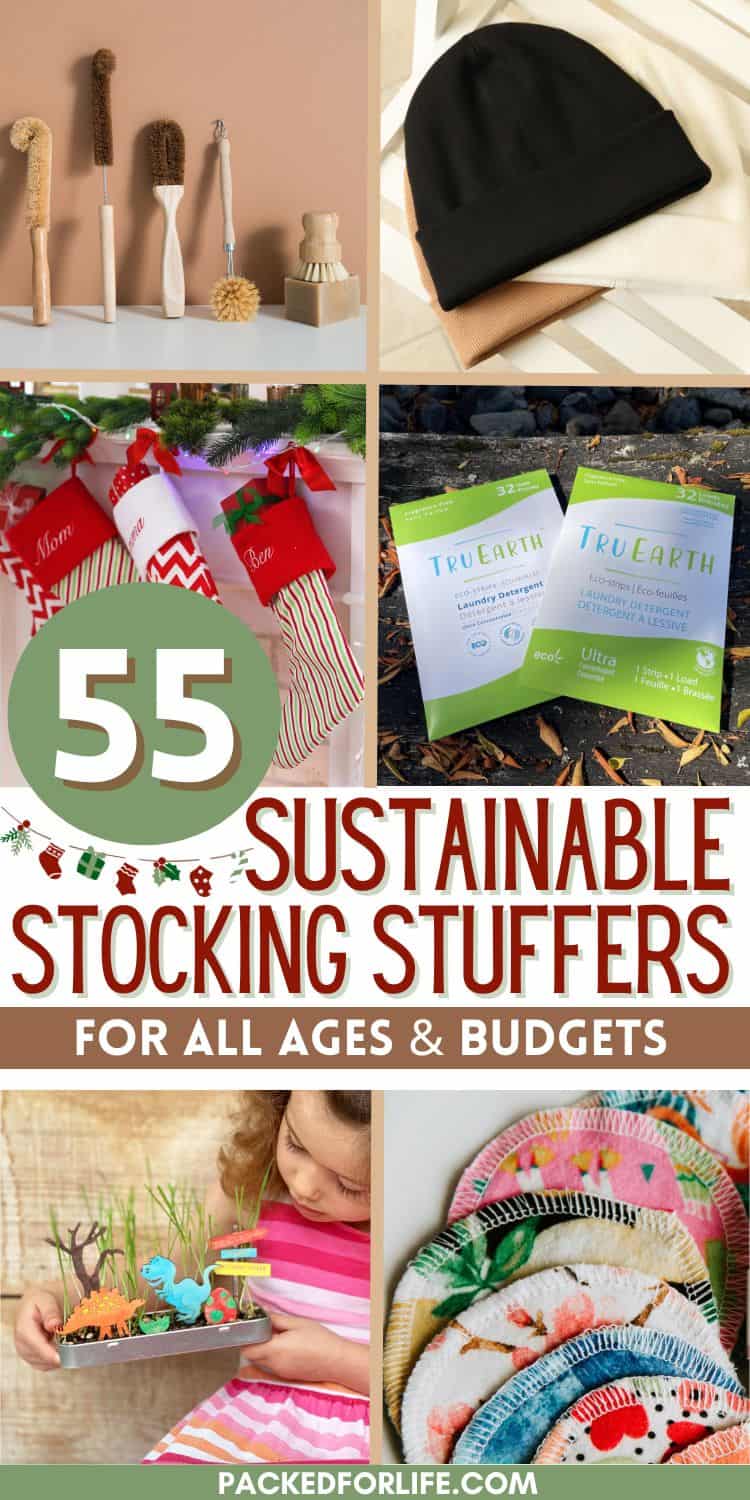 Toys make one of the best toddler stocking stuffers.
Oh sweet wooden family times await, with this Tender Leaf Sunny Wooden Doll Family. Made with renewable rubberwood, and non-toxic, waterbased paint.
They also have families with moveable arms and legs with different ethnicities and kids with cute pets.
Fun patterns + washable soft cotton flannel fabric = amazing facial rounds.
Farm Girl Designs reusable cotton rounds are larger and easy to use for makeup removal, to cleanse your face, or whatever else you choose. They come in a variety pack of patterns, making it a fun surprise.
FOOD & DRINK ECO FRIENDLY STOCKING FILLER IDEAS
Food and drink are staples during the Christmas and holiday season, and make some of the best sustainable stocking stuffers.
Whether you are buying for a tea drinker, a chocolate lover, or someone who loves to sip a bit of wine in the evening, there is something for every eco-lover on this list.
Sustainable stocking fillers can be delicious and good for the environment.
HOME & KITCHEN SUSTAINABLE STOCKING STUFFERS
Let's keep your home safe and cozy with some sustainable stocking stuffer ideas.
Try out some of these useful, unique eco friendly ideas from stainless steel pumps for a mason jar to silicone baking mats with cute sayings and more.
Stockings are just one of the ways to celebrate Christmas with family.
PLASTIC FREE STOCKING FILLERS
Help the planet by ditching the plastic, and reducing its use. Grab some plastic free natural and organic stocking stuffers for all your loved ones.
Felted Christmas Garlands are another fun & eco-friendly way to celebrate the holidays.
They also look fun hung around a room outside the holiday season too.
BATH & BODY ECO FRIENDLY STOCKING STUFFERS
When looking at eco-friendly bath and body products, you will want to make sure they contain natural ingredients (you can actually pronounce), are cruelty free, if possible fair trade, and contain organic ingredients where possible.
Our list of the top eco friendly bath and body products include eco friendly stocking stuffers for all ages. Add this to your gifts for mom list too.
ECO FRIENDLY STOCKING FILLERS FOR KIDS, TEENS & TODDLERS
If you are looking for even MORE ideas, you'll love our new guide to 30+ plastic free, ethical, and eco friendly stocking fillers specifically for babies, kids, tweens & teens here.
Eco-Friendly Stocking Stuffers for Toddlers
Toddlers like to put everything in their mouths still, so it's important to have toys, meal helpers and products that contain non-toxic materials. We've put together some of the most fun, ethical, eco and best toddler stocking stuffers.
Eco-Friendly Gifts for Kids
Eco Stocking Filler Ideas for Teens
Eco Friendly Stocking Fillers for All Ages
Stocking fillers can be eco conscious and eco friendly for the whole family. Whether you're shopping for clothing, eco toys or food to stuff your family's stockings with, our list of 50+ ideas will make your holidays green and sustainable, while still being affordable. With options from toddler gifts to teen gift ideas, there's something on this list for everyone!
Related articles on Gift Guides and the Holiday Season
---
Packed for Life is a participant in the Amazon Services LLC Associates Program, an affiliate advertising program designed to provide a means for sites to earn advertising fees by advertising and linking to amazon.com, amazon.ca.