With many people opting for staycations and roadtrips this year, kids camping gifts will be a big hit, all year round. Outdoorsy kids will love these thoughtful and fun gifts, so read our ultimate list of camping gifts for kids.
Hopefully these ideas will inspire families to spend more time outdoors together, whether it's exploring a national park down the road, or camping in your own backyard.
Here are categories of the best camping gifts for kids, they will actually use, and love:
Kids Camping gear– useful gear they can use for a backyard campout or at a campsite.
Camping gift basket – ideas to put together a fun camping gift basket for your favourite outdoorsy kids.
Fun Camping gifts for teenagers
Kids camping toys and games

Camping toys for toddlers
Camping toys for 8 year olds and 9 year olds
Kids Camping toys – All ages

Camping craft box gift ideas
Kids Camping toys at home
Read on for more exciting details and camping gifts suggestions.
Disclosure: Please note that this post contains affiliate links. If you click one of the links and make a purchase, we may receive a small commission, at no extra cost to you. Thank you! See full disclosure and disclaimer policy here
Let's Go! Kids Travel Activity Book
Avoid the whiny are we there yet in the car on the next camping adventure. Activity books are one of the best camping gifts for kids.
Grab our Let's Go Travel Activity and Coloring Book. It's 30 pages of kid fun you can print off right away, so you don't have to wait for it to arrive in the mail. Plus you can print off as many copies as you like for personal use….forever!
Happy Kids = Happy Adults!!
For other gift ideas, check out our list of top gifts for travel lovers – all ages.
BEST CAMPING GIFT IDEAS FOR OUTDOORSY KIDS
Our goal was to not only find fun camping gift ideas and items that are useful, but ones that are multipurpose and can be used at home, at a cabin or on your favourite camping trips.
Our children love the chance to play in the dirt, collect nature treasures and roast marshmallows over a fire. Best of all we have the opportunity to spend intentional time together as a family. Encouraging the love and care of the outdoors and the earth is something that is important to us. Camping gear are cool outdoor gifts that help with all that.
Camping Gear for Kids (They'll Actually Use)
Hammock
Kids love a good hammock hangout, and colourful hammocks make a fun and cool camping gifts for both teens and younger kids.
This hammock is very well rated, lightweight and folds up into a small grapefruit sized pouch. Easy to take anywhere. A fun addition for your next camping trip.

Preteens and teens can swing or read a book in it for hours (getting the space they need), and younger kids can swing wildly pretending they are in a boat, space ship, coccoon. It can also be used as a cool outdoor sleeping experience.
You might need to get two, as you'll have all your family members fighting over who gets to try out the hammock next.
Kid Size Camping Chairs
Camping chairs are a hit with kids of all ages and essential camping gear for kids (and adults). Choose a small lightweight one that is easy for them to carry around. Fun for tent camping, RV camping or just hanging out in your own backyard.
For the younger crowd choose a character theme or cute animal chair like the Melissa and Doug Butterfly Camping Chairs, and you will be their favourite adult.
Kids can use these around the fire pit while camping at a park like Acadia National Park, or it can double as their favourite marshmallow roasting chair at home too. Choose a style and colour that suits your child.
Camping with kids can be fun.
My daughter and I do mother-daughter camping trips each year, and her camp chair is well loved and used. We just got ours at our local Canadian Tire. Check out your local camping store.
Miss Seven has a pink canopied camp chair that she has loved for the past few years. It has also doubled as a fort, a towel drying rack, and a place for her stuffies to hang out at camp.
Sleeping bag
What's a campout without a sleeping bag? Buying light weight, insulated kid sized sleeping bags will bring excitement and anticipation for the tent next camping trip. Gifts for kids that are cozy, fun and useful.
They don't need to be super fancy, unless you need to buy sleeping bags that are technical for backpacking, or cool weather camping family type adventures. They make great camping gift ideas.
Kid size is the best! My daughter was so excited to get her first themed sleeping bag she slept in it on her bed for weeks.
They are also great for sleepovers with friends, as a nest inside forts, or sleeping bag stair races. Who did this as a kid?
Waterbottle
Keeping hydrated in the outdoors is important, and should be at the top of the list of camping gear for kids.
Consider waterbottles that are insulated and leak resistant like the Yeti Rambler Jr with straw cap, or one that is lightweight, with an easy to use sport top like Kleen Kanteen.
Nothing worse than leaking water in your backpack. Well ok maybe a dirty diaper blow out leak ( been there) or a smushed banana (done that) is worse. Parents unite!
Hiking Backpack – Essential Camping Gear For Kids
Hiking and camping go together like peanut butter and jelly. A hiking backpack is the perfect gift for outdoorsy child.
We prefer backpacks that are well made, last for at least a few years and can be passed on to younger siblings, or friends with younger kids. we take them everywhere from a family camping trip, to road trips and on planes.
Bonus they can carry their own water bottles, snacks and the many inevitable treasures they pick up along the way in their own hiking backpack.
You may also like our top picks for the best travel backpacks for kids
Camping Pad
Camping in comfort begins with a self inflatable camping pad. Comfortable kids = less complaining!
When my daughter was a toddler, she always fought me for my pink thermarest, left over from my treeplanting days. Nowadays, we all fight over my partners deluxe coleman camping pad. I think we need to add this to our gift list!
A perfect gift idea for campers and outdoorsy kids.
Educational Gift: Kids Binoculars
The Educational Insights Kidnoculars were one of the favourite grandparent camping presents of my daughters for many years. Fun for bird and squirrel watching, and checking out "things over there."
These binoculars have a big eyepiece that doesn't need to be adjusted, so easy to use, perfect for little hands, and are difficult to break. Broaden the top camping gear for kids with a new hobbie, birdwatching.
If you are looking for a gift for an older outdoorsy kid try these highly rated, compact and lightweight binoculars suitable for kids and adults.
Camping Gift For Teens: Go Pro
In this digital age, it is easy to see why a Go Pro would make a wonderful family gift, or a gift for an older teen. Capturing all the outdoorsy moments, and camping trips will make great memory keepers for the future.
Wow your kids with a special gift.
Consider one of the more affordable and highly rated Go Pro options for kids and adults. It has a user friendly touch screen, is waterproof, and with fairly rugged construction, great for kids.
If you aren't sold on the price tag of a Go Pro, try this more budget friendly, and highly rated camera:
GIFT IDEAS FOR THE ADVENTURER KID
Kids Camping Gifts: Camping Gift Basket
A gift basket full of entertaining things for your favourite kid(s) camping trips would be well received by both parents and children. Fill it with books, small family friendly games or toys, art supplies and snacks.
Entertain them on the road and at the campsite with a ready made kids camping gift basket. When we put together our camping activity kits for the kids, this is what we like to put in them so they fit in each of their backpacks. Gifts for kids they'll use and love. It's similar for all our travels:
2 – 3 Books or their Tablet / Kindle
1 – 2 Activity Books
Snack Pack (variety of snacks in one reusable pouch or ziploc bag)
Journal or Sketch Book & Colouring Pens or Crayons
Portable Craft Kit
Stainless Steel Water Bottle
1-2 Travel Sized Games
1-2 Small Toys.
Camping Gift Basket Ideas
Gift baskets make fun camping gift ideas. Get creative and fill the basket with camping themed items, art supplies, activity books and snacks. Here are some fun ideas I put together.
Art & Craft Supplies & Activity Books
Activity Book Ideas
Camping Themed Book Ideas
Camping books, are one of the best camping gifts. They will get your kids excited for the big event. As a book lover, I encourage you to support your local bookstore if you can, they are such great places and deserve support.
If you are planning on heading out to a USA National Park in the near future, America's National Parks book by Lonely Planet is a great addition. Full of awesome facts and gorgeous pictures this will inspire your kids curiousity and excitement about exploring nature around them.
When We Go Camping by Margriet Ruurs is a beautifully illustrated book that tells the story of one family's camping trip.
For the littlest ones on your crew, Goodnight Campsite follows visitors as they explore the nature park where they are staying during the day (hiking, biking, fishing) and then their campsite at night. This book highlights RVs, so a fun option if you are an RV family.
We also love her Tent Mouse, RV Mouse, a modern twist on the old Aesop's fable The Town Mouse and the Country Mouse. One mouse loves being outdoors in his tent close to nature, the other prefers the safety of the RV. Both learn it's ok to like different things and spend time camping.
Get your Princesses and Super Heros ready for a camping trip to a National Park.
This fun series makes great camping gifts for kids, and includes all the favourites like:
They also come in board books for the toddlers as well.
The Ultimate Book of Scavenger Hunts will keep the youngsters busy. Naturally they will want to check off all the items on the list during their outdoor adventures.
Backpack Explorer – On The Trail What Will You Find is a field guide for ages 4 to 9, full of seek-and-find lists, on-the-trail art projects, and discovery games. A delightful interactive book for kids.
Get ready for your great adventure in the outdoors! The Camping Activity Book For Kids, for ages 6 -9 helps encourage kids to explore the world around them and build wilderness skills.
Camping Spree With Mr. McGee by Chris VanDusen is a funny tale about the camping misadventures of Mr. Magee and his dog Dee. Perfect for a bed time read, snuggled up in a sleeping bag.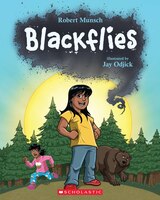 Is a camping trip really a camping trip, without a few bugs? Blackflies by Robert Munsch is a charming story about a girl who needs to rescue her dad and sister as they were carried away by bugs. Sure to get a few laughs.
The Book Scavenger series by Jennifer Chambliss Berman is one of our family's read-aloud favourites. Set in San Fransisco it combines mystery with a book scavenger hunt and ciphers to decode.
Some other entertaining book ideas:
Kids Tablet
A Kids Tablet is a fun alternative to physical books if you are looking to save space and weight. Bring music, games, books, audible books, and educational content along in one (almost) indestructible device.
Camping Snack Ideas
You want to make sure your little campers are well fed and get the full on camping experience with some fun snacks.
Hot Chocolate packets
Smore's Kit
Pretzels or Chips
Trail Mix ( we love to add gummy bears & smarties)
Nature's Bakery Fig Bars ( Raspberry are our favourite)
Moon Cheese (delicious crisps of dried yummy cheese goodness)
Small Camping Toys and Games for Kids
Flashlight ( for flashlight tag)
DIY Outdoor Scavenger Hunts
A Unisex Beanie Hat with a rechargeable LED headlamp built in, is a great gift any kid can take camping, hiking, exploring. Hands free fun.
CAMPING GIFTS FOR TEENAGERS
Teenagers are a world unto themselves and sometimes they can be hard to buy for. Here are some fun ideas to add to the best camping gifts for teenagers list. You can throw them into a camping gift basket, or keep separate.
Electronic Essentials for Camping Teens
It can be hard to pull your pre-teens and teenagers away from their phones, tablets and constant communication with friends.
While I think camping is a prime opportunity for everyone to put down their devices, there are times it's good to have them. Relaxing at night, capturing special moments. Here are some camping electronic ideas teens will love:
GoPro – get them excited to make memories, with a camera they can take epic videos with
Camping Essentials for Teens
Check out our camping themed favourites gift list, for your hard to buy for preteens and teens.
KIDS CAMPING TOYS AND GAMES
Depending on their ages, children will like different types of camping toys for kids. We will outline some age groups and general ideas first then delve into some more specifics, equally as awesome kids camping games and toys.
Camping toys for 8 year olds and 9 year olds would really be good for anywhere from five years on up to teen. My daughter is in that age group, so it is easy for me to come up with fun ideas.
Camping Toys For Toddlers
Balance bikes – help develop balance and roam the campsite with their toddler biker friends. This one is good from 18 months to 5 years.
Pro Ball Set – Introduce you toddler to 3 sports with a 5 inch soccer ball, a 6.5 inch football, and a 5 inch basketball Set.
Large Aqua Doodle Mat – Keep the toddlers entertained on your camping trip. Fill th emagic pens with water and let them draw. This is a fun activity with siblings too, and would be great up to age 6 or so.
Camping Toys for 8 Years Olds & 9 Year Olds
Walkie Talkies – 10-4, we are by the swings, bring marshmallows! Give your 8 and 9 year olds a bit more independence. Really these are a great kids camping toy from 5 – 14+.
Scooter – Portable and small enough to fold down into the car, this scooter will be a hit with the 8+ crowd, and their new campground friends. Plus they have adult sizes if you want to join in the fun.
Kids Camping Toys – Gift Ideas For the Adventurer Kid (All Ages)
Walkie Talkies
Let your kids feel some independence and live their best kid adventure life with some Walkie Talkies. Bonus for the parents, they come with rechargeable batteries. Comes in many colours including pink, black and red.
Walkie Talkies were our absolute favourite as a kid. Running around pretending we were spies on secret missions. Also good to keep in touch as they wander further away. You can't go wrong adding this to the list of best camping gifts for kids.
Scavenger Hunts
Scavenger Hunts are a great way to put a little outdoor adventure in your day.
Create your own, or try out Go Find It a nature scavenger card game for families or this travel friendly indoor/outdoor treasure hunt card game.
Plan Your Own Family Games
Games don't require a lot of expense, or pre bought items. Most of my child's favs are the same ones I loved as a kid, that required nothing but time, running around or a little imagination.
Make up a handful of cue cards with fun kids games. Write the name of the game on one side, and a brief how to on the other. Put the game cards in a fun bag, they can draw out one at a time.
Freeze Tag
I Spy
Charades
Hide and Seek
Obstacle Course
Telephone
Name that Tune (humming, no words)
Potato Sack races using Sleeping Bags
Portable Games for Camping
Relive your childhood, by bringing some fun, portable, camping games on your next family trip. Try some outdoor games for quality time together.
Looking for new adventures?
CAMPING TOYS FOR KIDS – AT HOME
Inspire your kid to love the outdoors through imaginative play, for those times you can't make it out camping. Gifts for outdoorsy child, they can play with at home.
Lego
Lego inspires creations of all sorts. Get your child excited to camp first at home, then bring the set along on your adventure for a rainy day.
Lego Caravan Holiday Set – 3 in 1
I would've loved these Lego camping Sets as a kid, so adorable. Build a car with caravan, then switch it up for a camper van, or a lighthouse. Plenty of opportunities for creative camping adventures.
LEGO Friends Forest Camper Van
Who says you can't camp in style. Take a boat ride, stargaze, take a nap in the decked out camper van.
LEGO Friends Adventure Camp Rafting
Raft and camp in style with a sweet friends Adventure Camp set. Start with a river bridge and a camping area (includes a lamp, a fish, a campfire, marshmallows, compass, camera and sunglasses). Jump in the rafting boat with seats and oars, or head up the climbing wall for more outdoorsy fun.
Toy Camping Sets
Get your wee one's into the camping spirit with some crafty kids toy camping playsets to spark imaginative play.
A kids pretend campfire playset has all the essentials for a camp cookout: flaming logs, glow-in-the-dark lantern, fork, hot dog, marshmallow, chocolate bar, 2 graham crackers, and a carry bag.
Camping Craft Ideas
You never know when the weather may turn, or the children are wild and need a bit of a calming down activity. It's a good idea to have a back up plan and camping crafts make useful, and fun camping gifts for kids.
Craft and STEM Subscription Boxes
Craft or STEM (or STEAM) Subscription boxes are the perfect thing to bring along on a trip. They come in a small self-contained box, with usually everything you need to complete the main crafts or stem experience. Sometimes you may need the odd item or two from home so check first.
STEAM Subscription boxes are also great as an educational tool for world schoolers and homeschoolers.
My daughter has loved these since she was 3. While the ages are typically older than that we had a lot of fun doing them together.
KiwiCo Boxes
We have been enjoying the KiwiCo Boxes over the last year. There are plenty of fun options to choose from for all ages.
The Atlas Crate is a fun way to explore countries around the globe from home. There are 2 STEAM activities, plus a booklet full of interesting facts about the country, including a recipe to try, which my daughter also loves.
We've also created with the Kiwi Box and Tinker Crate. Both are great options. Tinker Crate is her current favourite and she loves to build things.
Green Kid Crafts
Our number one choice for an eco-friendly box is the Green Kid Crafts box.
The Green Kids Crafts Boxes are perfect for busy families, and a reoccuring subscription makes for a fantastic special occasion gift from grandparents or other family members.
We have bought this subscription regularly over the years, and as they have options for ages 2-10, it has grown with our child. The boxes have easy to follow instructions, fun science and art activities for the kids (that I enjoy too), eco friendly materials and it's all prepared for you. So easy!
Some box examples include the above Holidays Around The World, Reptiles, Endangered Animals, Human Body Lab, and Down on the Farm.
Camping Gifts For Kids
Kids camping gifts are a fun way to bring a love of the outdoors into their life.
Tips for giving the perfect gift: Consider who you are buying for, and their ages. Ask what they enjoy about camping. If you have a reluctant camper, try buying something that may excite them to go camping.
What are some of the favourite camping / outdoor gifts you've given or received? Help us make this list better. Leave a comment below or connect with us on social media. We'd love to hear from you!
Related travel gear, destinations and trips:
---
Packed for Life is a participant in the Amazon Services LLC Associates Program, an affiliate advertising program designed to provide a means for sites to earn advertising fees by advertising and linking to amazon.com, amazon.ca.